Magnete (PHM 1/A)



Contatto (PKM 1/B)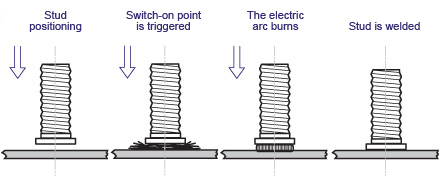 WE HAVE SOLVED THE OLD PROBLEM OF THE PLUGS AND CONNECTORS! CONNECTING PLUG INCLUDED IN THE INDUSTRIAL DESIGN
Energy-saving welder with low heat release, designed and made for low environmental impact.
WELDING GUNS
According to usage to be made, both contact as well as magnet welding guns can be connected.

PRACTICAL APPLICATIONS
Handy equipment for industrial stud welding.
Compact and sturdy, particularly suitable for assembly operations.
Studs in compliance with EN ISO 13918 and the most diverse special pieces moulded in steel (alloys and non), aluminum and brass can be properly used.
SAFETY AND MANAGEABILITY
Easy polarity interchange for welding galvanized sheet metal.
Optimal safety in welding by safety controls.
The welding voltage is not influenced by fluctuating power supply.
Continuous regulation of the voltage guarantees optimal results in welding in all diameters.
Control and indication of all important functions.